Real Estate 2018: What to Expect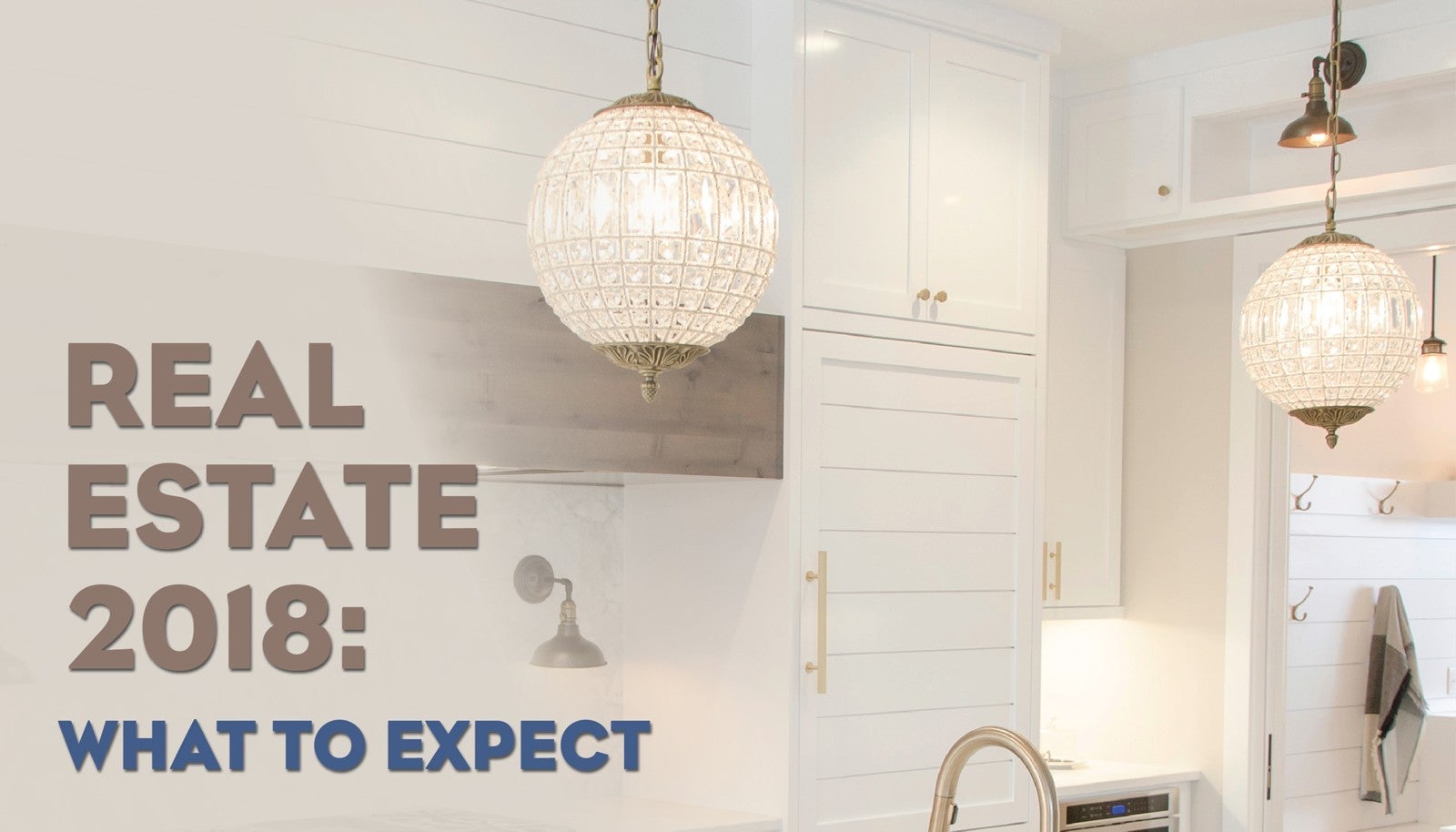 As we head into a new year, the most common question we receive is, "What's the outlook for real estate in 2018?"
It's not just potential buyers and sellers who care; current homeowners also want reassurance about the value of their investment. No one knows exactly what 2018 will bring, but we've outlined expert predictions on where the market is headed and how government interventions are expected to impact the Canadian housing market in the year ahead.
HOUSING PRICES WILL REMAIN HIGH IN URBAN CENTRES
Although the Toronto real estate market did experience a slowdown in 2017, housing affordability will remain a major issue in both Toronto and Vancouver in 2018. According to the Royal Bank of Canada's most recent Housing Trends and Affordability Report, as of Q2 2017 it cost more than 75 percent (Toronto) and 80 percent (Vancouver) of median household income to cover the average cost of owning a home.1
In an effort to stabilize prices, both the Ontario and British Columbia governments enacted a 15 percent tax on foreign investments in housing. However, according to the PricewaterhouseCoopers report on Emerging Trends in Real Estate: Canada and the United States 2018, "Industry players are skeptical that recent tax moves … to curtail foreign investment will have a long term cooling impact on housing affordability in Toronto and Vancouver."2
In its Canadian Regional Housing Outlook, TD Economics predicts "The decline in sales activity in both Vancouver and Toronto has helped to redistribute the balance of power from a pure seller's market, back towards buyers, as evidenced by the sales-to-listing ratios. But, first-time homebuyers sitting on the sidelines waiting for higher interest rates to trigger a market crash may be holding their breath for a while. Prices are likely to only reset back to levels that existed prior to a year of exorbitant gains."3
The high cost of living has forced a growing number of millennials to seek alternatives to traditional housing. The 2016 census found 47.4 percent of young adults in Toronto and 38.6 percent in Vancouver live with a parent. PricewaterhouseCoopers predicts a rise in multi-generational and multi-family homes, a move towards larger condominiums to suit growing families, and a flight from urban cores as new public transit projects make commuting more feasible.2
What does it mean for you? If you're a current homeowner, you can expect your investment to hold its value and continue to appreciate over the long term. And if you're considering selling this year, contact us to request a free Comparative Market Analysis to find out how much you can expect your home to sell for under current market conditions.
If you're a potential buyer who has been waiting for real estate prices to drop, don't expect a fallout any time soon. Governmental bodies have taken steps to slow down skyrocketing prices, which has helped to balance the market. Now is a great time to buy. And if traditional housing options don't fit your budget, we can help you find alternatives to meet your needs.
GOVERNMENT INTERVENTIONS WILL HELP TO STABILIZE THE MARKET
Skyrocketing real estate prices have caused Canadians to take on a growing amount of debt. The federal Parliamentary Budget Office (PBO) reports that the average household indebtedness is up to 174 percent of disposable income, and they predict it will reach 180 percent by the end of 2018. Coupled with rising interest rates, the share of income that will go towards debt payments is expected to reach historic proportions.4
Regulators at the Office of the Superintendent of Financial Institutions (OSFI) have attempted to curb the potential fallout with interventions, the latest of which went into effect on January 1. These new regulations raise the requirements for mortgage borrowers with down payments of 20 percent or more. They are now required to qualify for a mortgage at an interest rate two percentage points higher than their current rate to ensure they can manage payments when interest rates do inevitably rise.
A similar "stress test" was enacted in 2016 for borrowers who put down less than 20 percent, but that regulation impacted a much smaller percentage of buyers.
According to Jeremy Rudin, the head of OSFI, "We clearly see the potential risks caused by high household indebtedness across Canada, and by high real estate prices in some markets. We are not waiting to see those risks crystallize in rising arrears and defaults before we act."5
All federally regulated financial institutions will be obligated to utilize these requirements for both new mortgages and mortgage renewal applications of borrowers applying to switch lenders. It is not mandatory to apply the test at mortgage renewal for existing borrowers. Since credit unions are regulated provincially, they are not required to follow the new OSFI rules, although some may choose to out of prudency.
What does it mean for you? With new rules in effect, if you're a buyer, your purchasing power may be impacted. If you're concerned you may not be able to meet these requirements, securing your mortgage through a credit union may be an option. We are following this issue closely. Give us a call so we can discuss how these new rules will affect your home search.
If you're considering selling your home this year, these regulations could alter the type of buyer who will be willing and able to purchase your home. We have expertise in this area and know how to market your home to a changing demographic.
5 YEAR MORTGAGES WILL MAKE A COMEBACK
Expect interest rates to rise in 2018. Bank of Canada has indicated that borrowers should expect to see rate increases this year … and notably, nearly half of Canadian mortgage holders are set to renew their mortgages in the next 12 months. Combined with the new, more stringent "stress test" requirements, a greater number of homeowners will be opting for five-year-fixed rate mortgages over the historically popular variable rate mortgages.6
According to LowerRates.ca, "Since January 2014, 56% of Canadian borrowers who applied for a mortgage through LowestRates.ca have gone variable, compared with 43% of those who got a five-year fixed. But this past August, there was a shift, where the five-year-fixed rate mortgage saw a sharp increase in applicants, with 59% of users on the LowestRates.ca site opting for this option versus only 39% opting for the variable mortgage."7
What does it mean for you? If you're in the market to buy, act now. Rising interest rates will decrease your purchasing power, so act quickly before interest rates go up. Give us a call today to get your home search started.
And if you're a current homeowner who is set to renew your mortgage, you may want to consider locking in a five-year-fixed rate. Contact us if you would like assistance navigating your options.
2018 ACTION PLAN
If you plan to BUY this year:
1. Get pre-approved for a mortgage. If you plan to finance part of your home purchase, getting pre-approved for a mortgage (we're happy to provide contact details for qualified Mortgage Brokers) will give you a jump-start on the paperwork and provide an advantage over other buyers in a competitive market. The added bonus: you will find out how much you can afford to borrow and budget accordingly.
2. Create your wish list. How many bedrooms and bathrooms do you need? How far are you willing to commute to work? What's most important to you in a home? We can set up a customized search that meets your criteria to help you find the perfect home for you.
3. We're here to help!. The buying process can be tricky. We'd love to guide you through it. We can help you find a home that fits your needs and budget, all at no cost to you. Give us a call to schedule an appointment today!
If you plan to SELL this year:
1. Call us for a FREE Comparative Market Analysis. A CMA not only gives you the current market value of your home, it'll also show how your home compares to others in the area. This will help us determine which repairs and upgrades may be required to get top dollar for your property … and it will help us price your home correctly once you're ready to list.
2. Prep your home for the market. Most buyers want a home they can move into right away, without having to make extensive repairs and upgrades. We can help you determine which ones are worth the time and expense to deliver maximum results.
3. Start decluttering. Help your buyers see themselves in your home by packing up personal items and things you don't use regularly and storing them in an attic or storage locker. This will make your home appear larger, make it easier to stage ... and get you one step closer to moving when the time comes!
WE'RE HERE TO HELP
While national real estate numbers and predictions can provide a "big-picture" outlook for the year, real estate is local. And as local market experts, we can guide you through the ins and outs of our market, and the local issues that are likely to drive home values in your particular neighbourhood. If you have specific questions, or would like more information about where we see real estate headed in our area, please give us a call! We'd love to discuss how issues here at home are likely to impact your desire to buy or a sell a home this year.
Sources:
1. Royal Bank of Canada's Housing Trends and Affordability Report -
http://www.rbc.com/newsroom/_assets-custom/pdf/20170929-ha.pdf
2. PricewaterhouseCoopers Emerging Trends in Real Estate 2018 –
https://www.pwc.com/ca/en/real-estate/assets/Real_Estate_ETRE_2018_PDF.pdf
3. TD Economics Canadian Regional Housing Outlook –
https://economics.td.com/canadian-regional-housing-outlook-aug-2017
4. Office of the Parliamentary Budget Officer -
http://www.pbo-dpb.gc.ca/en/blog/news/HH_Vulnerability
5. Financial Post
https://business.financialpost.com/personal-finance/stricter-osfi-rules-on-mortgage-lending-will-do-more-harm-than-good-fraser-institute
6. Bank of Canada Financial System Review November 2018 –
https://www.bankofcanada.ca/wp-content/uploads/2017/11/fsr-november2017.pdf
7. Maclean's –
http://www.macleans.ca/economy/money-economy/canadians-rushing-to-lock-down-five-year-fixed-rate-mortgages/
es here

Share
Categories
Archives

Subscribe To This Blog