Greater YVR June 2020 Mid-Month Snap Shot
GREATER VANCOUVER JUNE MID-MONTH MKT. SNAP SHOT
?
:
You may be wondering 
"How does the selling/buying process work in times like these?" Or, if you want to sell, "Is now a good time or should I wait?" For investors, you may be wondering "How do recent "temporary" Tenancy provisions affect me?" And first-time homebuyers may be thinking "It's the right time to step into the market!"...there's lots to consider
.
The short answer is the real estate market 
is still moving! We have made a number of sales utilizing the new COVID-19 protocols. If you're looking for answers, for your unique circumstances, with respect to selling or buying, in today's market, please reach out to us.
Our GREATER YVR JUNE 2020 Mid-Month Market Stats "Snap Shot"
Sales units increased over the same period in May 2020, however, remain considerably lower than the same period in June 2019. As for prices, across all types of residential real estate, the prices remain higher than a year ago (average
⬆️
4%-7%). And, the supply remains tight. When compared to May 1 - May 15th, 2020, we are seeing an increase in the average selling price
⬆️
for Detached and Attached properties, while the average price for Apartments remains flat
➡️
.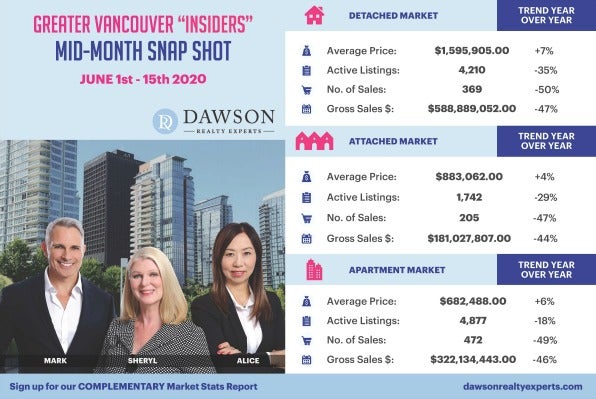 Share
Categories
Archives

Subscribe To This Blog