2023 Real Estate Market Outlook (And What It Means for You)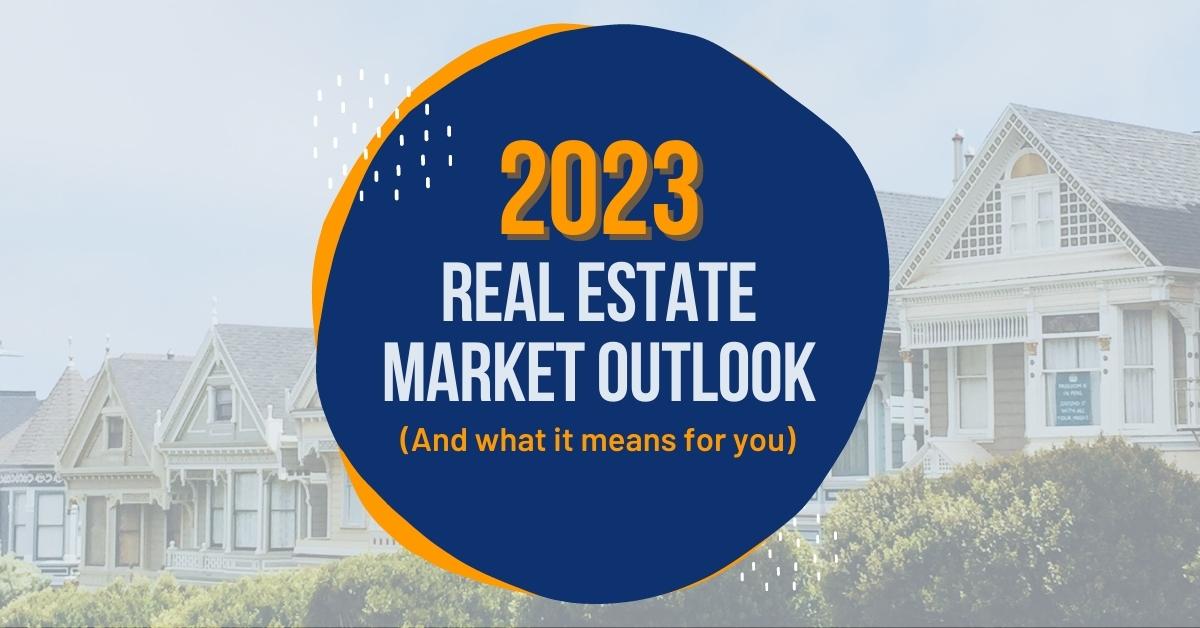 Last year, one factor drove the real estate market more than any other: rising mortgage rates.  
In March 2022, the Bank of Canada began a series of interest rate hikes in an effort to pump the brakes on inflation.1 And while some market sectors have been slow to respond, the housing market has reacted accordingly. 
Both demand and home prices have softened, as the primary challenge for buyers has shifted from availability to affordability. And although this higher-mortgage rate environment has been a painful adjustment for many Canadians, it should ultimately lead to a more stable and sustainable real estate market. 
So what can we expect in 2023? Will mortgage rates continue to climb? Could home prices come crashing down? While no one can forecast the future with certainty, here's what several industry experts predict will happen to the Canadian housing market in the coming year.  
Over the course of 2022, we saw the benchmark rate rise at a record pace—a whopping 400 basis points in just nine months. Fortunately, there are signs that the central bank's series of rate hikes may be coming to an end.2 
After last month's half-point rate increase, Bank of Canada officials struck a noncommittal tone about future rate hikes, prompting economists to speculate that the central bank may pause hiking rates by early spring, if not sooner.3  
What impact will this have on mortgage rates? Variable mortgage rates could finally stabilize. However, buyers hoping for a big drop later in the year may be disappointed. Although some market analysts are betting on lower rates, CIBC economist Benjamin Tal thinks that's unlikely as long as inflation remains a factor. "I think that the Bank of Canada is determined to make sure that they will not touch interest rates in terms of cutting them before inflation is totally dead," said Tal in an interview with Canadian Mortgage Professional.4  
Fixed mortgage rates, on the other hand, could continue to trend lower as bond yields crumble.5 James Laird, co-CEO of Ratehub.ca, predicts that Bank of Canada's benchmark rate will hold steady through 2023, but fixed mortgage rates may tick down because of bonds. "Bond yields will decrease throughout the year, allowing fixed rates to follow suit," said Laird in an interview with Canadian Mortgage Professional.6 However, those rate decreases may be fairly muted as long as banks' borrowing costs stay higher overall. 
It's also possible that rates on both variable and fixed-rate mortgages will climb instead. Bank of Canada Governor Tiff Macklem has made clear that the central bank is prepared to keep hiking rates aggressively if inflation fails to dissipate. "If high inflation sticks, much higher interest rates will be required to restore price stability," said Macklem in a recent speech to business leaders.7  
The pace of home sales fell steeply last year as higher mortgage rates priced would-be buyers out of the market. However, some industry experts predict that the Canadian housing market is poised to turn a corner.  
Although many buyers and sellers are currently in a stalemate over housing prices, market dynamics may shift this spring as more homes go up for sale.  
"Zooming in on demand and supply conditions, the drop in unit sales has been the steepest on record, but the pace of the decline is starting to slow," write CIBC economists, Benjamin Tal and Katherine Judge, in a recent forecast.8 Douglas Porter, chief economist at BMO Capital Markets, projects that existing home sales will fall through the first half of 2023 and then reverse course and begin to rise in Q3.9  
Victor Tran, mortgage expert at Ratesdotca, also speculates that a stabilization in mortgage rates will bring home buyers back out. He told the Financial Post in a December interview: "We may be seeing the bottom of the housing market trough before buyers begin to enter the market in spring of 2023."10 
Canadian home prices have fallen roughly 10% from their peak, and analysts expect they could fall further before moderating in the second half of this year.11 
A Reuters poll of industry experts found a wide range of predictions. But on average, the analysts surveyed project that home prices could fall another 7.5% or so. However, the majority report that the risk of a market crash is low.11 
A nationwide housing shortage is expected to prop up prices even as sales volume falls. According to Robert Kavcic, senior economist at BMO Capital Markets, "We have a unique situation where demand has cracked and buyers can't qualify for, or afford, early-year prices. But, outside some areas, there's not a bounty of listings to choose from, and sellers are still able to say 'no thanks.'"11 
Economists at CIBC speculate that home prices will hit a floor in the coming months: "A lower 5-year rate and pent-up demand amplified by demographics will work to establish a bottom in prices by the spring of 2023," write Benjamin Tal and Katherine Judge.8 
RBC Assistant Chief Economist Robert Hogue offers a similar projection: "We expect prices will keep falling until a bottom [this] spring. Our forecast calls for the national benchmark price to drop 14% from (quarterly) peak to trough."12 
It can feel scary to buy a home when there's uncertainty in the market. However, real estate is a long-term investment that has been shown to appreciate over time. And keep in mind that the best bargains are often found in a slower market, like the one we're experiencing right now. Contact us to discuss your goals and budget. We can help you make an informed decision about the right time to buy. 
While home prices have fallen, rent prices have surged—rising around 12% year-over-year, according to data from Rentals.ca.13 
The average monthly cost to rent a home in Canada is now higher than ever and some analysts are growing increasingly concerned that renters won't be able to keep up with the higher payments. "We're getting close to a point where rents are just simply becoming unaffordable for renters," said Urbanation president, Shaun Hildebrand, to CBC News.14  
But that's not stopping landlords from collecting higher rents. In 2023, affordability challenges for would-be buyers, inflationary pressures, and an overall lack of housing are expected to continue driving up rent prices in much of the country.  
"Interest rates are actually working to elevate rent inflation because many people are not buying, so they are renting more," CIBC Economist Benjamin Tal told CBC News.13 
And according to Tal, the higher rates have also disincentivized builders and developers from investing in rental properties. That, in turn, has exacerbated the undersupply of available units.13 
It's possible rent prices could ease if Canada's economy deteriorates, says Urbanation's Hildebrand. "But over the medium and longer term with aggressive immigration targets and rental construction that's been stalling recently due to high costs, it's pretty clear that rents are going to continue to rise higher."14  
Rent prices are expected to keep climbing. But you can lock in a set mortgage payment and build long-term wealth by putting that money toward a home purchase instead. Reach out for a free consultation to discuss your options.   
While national real estate forecasts can provide a "big picture" outlook, real estate is local. And as local market experts, we can guide you through the ins and outs of our market and the issues most likely to impact sales and drive home values in your particular neighbourhood.  
If you're considering buying or selling a home in 2023, contact us now to schedule a free consultation. We'll work with you to develop an action plan to meet your real estate goals this year.  

Share
Categories
Archives

Subscribe To This Blog